You have an iPad and you love it. You want to get full utility out of it. If you are like me, then you are surprised by how much you use it and how little you use your desktop or even your laptop anymore. You also want to protect the minimum $500.00 you've spent on it. Cases of some sort have become an absolute must. Naked iPad use just doesn't cut it for some users. The iPad has a wonderful form factor, but it needs some help. Holding it in its naked form just isn't good enough.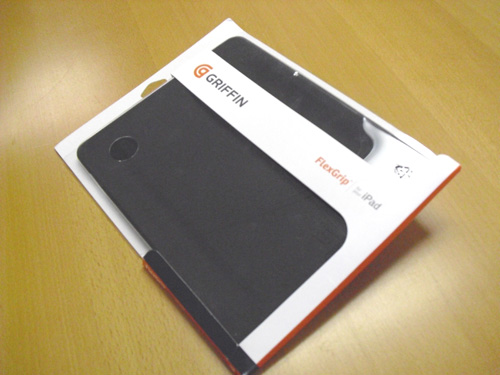 Silicone and rubber have been used to protect things for a long while now. It makes sense. It is soft yet strong. This isn't new or innovative. Remember that Seinfeld episode where Kramer, through his corporation "Kramerica", wanted to use silicone or rubber to protect the environment? He came up with an idea where all oil tankers would be lined with a layer of silicone or rubber. That way if the tanker crashed the oil would still be secured. It was a joke on the show, but I bet those responsible for recent events that have taken place wish they had taken it more seriously and made an effort at implementing it.
Anyway, silicone is awesome and helps protect us in many ways. It is only natural that a smart company would come up with a way translate that into iPad protection.
Form Factor
One of the keys to any cases is its interference, or lack thereof, with the iPad's form factor. That isn't easy, the iPad is thin. I mean even iPad commercials you make sure to point that out right from the start. There are people out there who don't want to ruin that but still want to protect their iPad. They want their cake and eat it too, so to speak. I mean why else would you want cake if you couldn't eat it. That is the whole point of cake isn't it?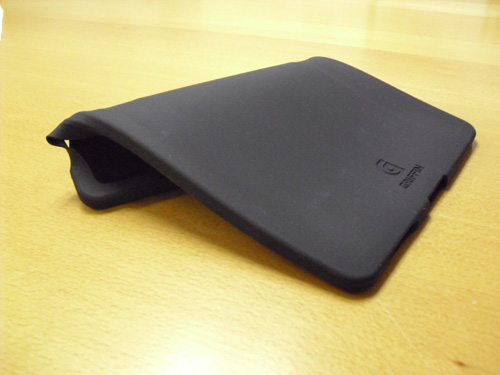 The Flex Grip accomplishes this. It is a silicone skin that completely envelops your iPad. It covers it in a nice safe, but not overly thick, skin. This allows you to protect your iPad without destroying the form factor.
Functionality
The Flex Grip is extremely easy to install. You simply slide your iPad into it and it wraps around the iPad very easily. It also comes off just as easily in the event you want to take it off and use it in its naked form.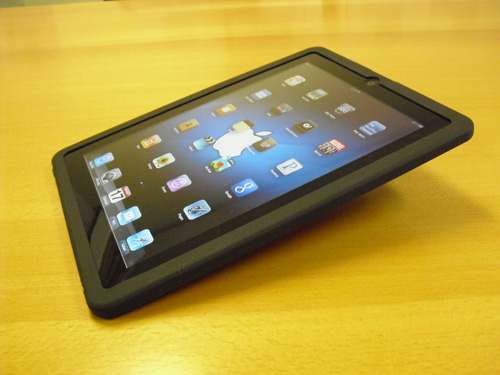 The Flex Grip improves functionality. Holding the iPad while it is covered in the skin actually makes it nicer to use. You get a nice grip on the iPad that is comfortable. As I have said before, the sharp edges of the iPad don't feel very nice. The Flex Grip softens those edges and makes holding your iPad a lot more comfortable.
All the speakers, the mic and buttons are completely accessible and useable when the Flex Grip is on you iPad. There is literally zero interference on that front.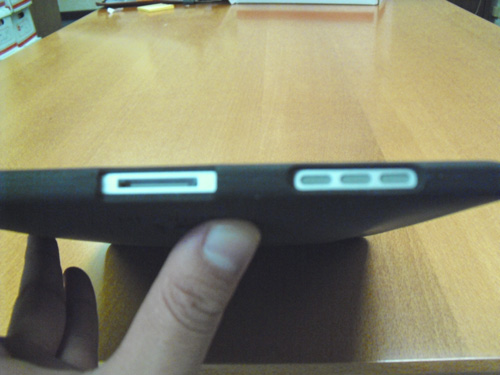 There is some protection provided as well. You won't have to worry about that pretty aluminum getting scratched and messed up. The Flex Grip will totally protect you from that nightmare. There is obviously no screen protection. But I do think ,it will help with some drops. I love my readers, but I wasn't willing to drop my iPad for a demo for you guys. But, I mean Kramer thought it would prevent oil leaks leaks so there must be something to it.
Coolness Factor
As discussed, there is very little interference with the form factor. That automatically helps. The iPad looks great, and other than eliminating the aluminum backside, the Flex Grip does not interfere with that.
The Flex Grip is available in a few different colors. Black, purple, blue and a white so lite that you can still make out your Apple logo on the back.
It looks pretty good, and the color selection allows you some individuality. That way people won't think that you are a total Apple lemming.
The fact that it comes off easily is also a really nice feature. As far as showing the iPad off goes, naked is the only way to do it. So next time you bring that first date over, you can quickly undress your iPad and casually lay it on your coffee table. "What is that sexy device sitting on my coffee table you ask? Oh nothing, just my iPad. Sure you can play with it. Don't worry, when I take it in the bathroom I put this silicone skin on it, so it is clean". Wow, you could imagine a pretty girl swooning during this exchange.
Pros
Comfortable to use and improves functionality.
Easy to put on and take off.
Not a significant detriment to form factor.
Provides some protection.
Cons
Not very much protection.
A little expensive.
Should You Buy?
The Flex Grip will cost you $34.99. That is kind of pricey for a simple silicone case. I don't think I'd be saying that if it was $29.99. This is on par with the prices of other cases for the iPad. If you want a case or some protection with a minor footprint, then this is the case for you. Coupled with a good screen protector, you will be completely covered.
Rating: 3.0 (out of 5)