The Luxa2 H4 iPad stand just looks cool. With its arms and and aluminum body, it looks like serious hardware. And, at a MSRP of $59.99, reasonably priced for a professional grade stand. There is a matching Luxa2 H1 stand for the iPhone. (There is also an H2 stand for the iPhone that does not have the arms - it relies on a tacky back to hold your phone in place. YMMV in its use, but I would recommend the H2 and keep the arms.)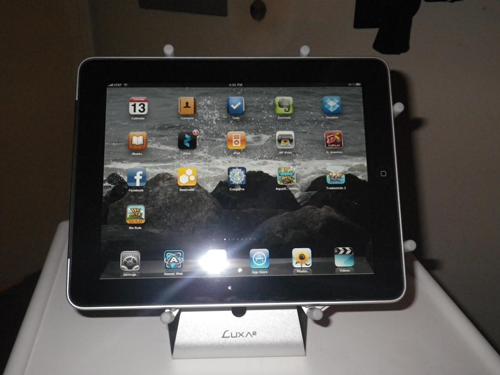 This was not a review sample. It was purchased at MicroCenter with my own dough.
The 360 degree rotating unit and arms allow you to keep your iPad in any orientation you'd like - vertical, horizontal or anywhere in between. The arms are long enough that I can keep my iPad in my Marware Eco-View case with the back folded over. This is a HUGE plus for me, because I really hate having to take any device in and out of a case just to put it on a stand.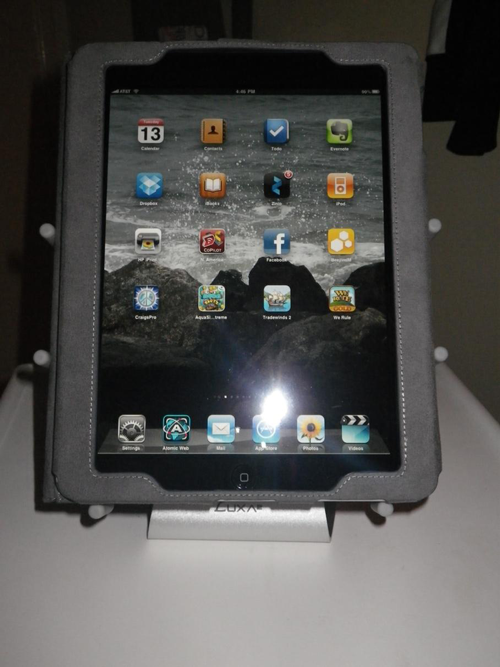 Form Factor
iPad stands can come in portrait or landscape styles, or the ability to work with both, and have the ability to tilt, or not. This stand does it all - you can rotate 360 degrees and choose any orientation and angle you would like.
There is a slot in the stand for you to slide in your charging cable. This allows you to keep your iPad plugged in no matter what orientation you decide to use.
Functionality
The stand is a bit more "wobbly" than I would have expected once you have your device placed on the stand. Also a bit counter intuitive is the fact that the branding would be facing backwards. If you have the H1 stand for the iPhone, the branding is expected to be facing forward, while the iPad version is most stable with the branding to the back. Quirky, IMHO.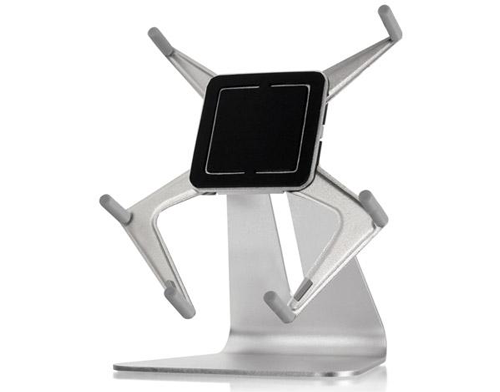 Using a case that adds more weight may contribute to the stability issue. There are lighter weight cases that may not be quite as heavy as the one I am using.
Coolness Factor
It just doesn't come much cooler than the Luxa2 H4, except for the name of the product, which sort of sounds like an experimental drug to me. But it has that industrial yet sleek look to it, and adds the most function of any iPad stand I've used so far.
Pros
360 degree rotation
slot for charging cable
can be used with even a thick case without removing the iPad
Cons
it can be awkward to find a total stable angle when the iPad is in a heavy case
counter intuitive use of the branding to the most stable use of the stand
Should You Buy?
The Luxa2 H4 iPad stand is sleek and a handsome addition to your desktop. It's ability to rotate to any orientation you'd like puts it at the top of the heap for stands, and I would highly recommend it to anyone.
Cost: MSRP $59.99 but available for less online
Website: http://usa.luxa2.com/product_showroom.aspx?s=15
Rating: 4.5 (out of 5)