Some people like naked iPad use. Who can blame them. Apple did a great job designing this thing. It is quite aesthetically pleasing. It is sleek and thin, just like the commercial says it is. I used to think naked iPad use was a bad idea. Lately, I have softened on that position. I can see the appeal of using it that way. But, unless you are an independently wealthy individual, you want to protect it.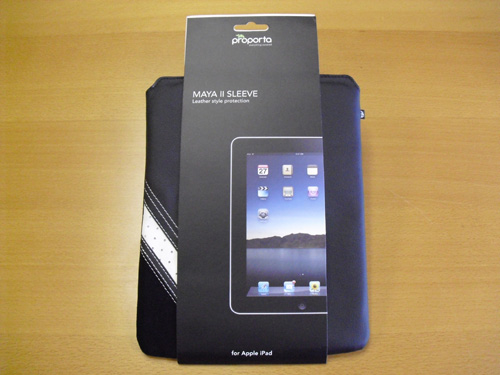 On a side note, that iPad commercial where the crazy girl is carrying her iPad naked while riding on the back of a scooter drives me crazy. That is totally irresponsible and stupid. I mean she isn't even carrying it with two hands. That sleek and thin aluminum would slide out of her hands. Then it is bye bye to at least $500.00. I mean who is really going to do that? Paris Hilton, one of those Kardashian chicks, or maybe some other annoying woman who has a show on VH1 or something. Well the rest of us who use the iPad naked need a more practical solution.
Form Factor
Just like the title says, this is a big sleeve. It is open at the top where you slide your iPad in. It is made of something the manufacturer describes as, "the finest quality alternative to leather." I'm not sure what that is, but it does feel leather like. Thus, if you are one of those animal rights activist, PETA member vegetarians who think animals are better than people, you can use this pouch without shedding a tear. The interior of the pouch is made of very soft micro-fibre. In fact, the pouch is soft and smooth and smooth to the touch in general.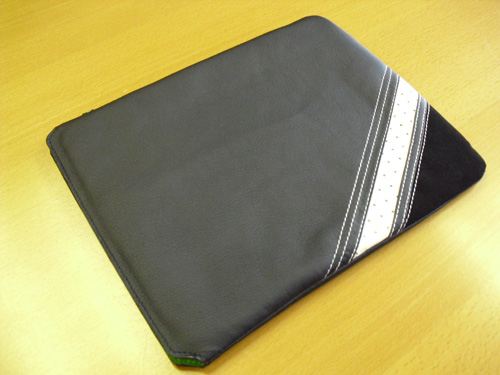 The Maya II adds very little bulk. It is quite thin and unassuming in that regard.
Functionality
I had my doubts about this pouch when I first saw it. I thought the whole pouch concept was silly. I thought you would only be able to carry it in portrait mode. Otherwise the iPad could slide out if you held it in sideways or in landscape mode. To me this would have been a major hit on functionality and make the pouch worthless. However, my initial fears were quickly eliminated.
The iPad slides into the pouch with relative ease. The reason I say relative is because it tightly hugs the iPad so you do have to finesse it in there. Once it is in, it won't slide out of there on it's own. That is how very snugly it envelopes the iPad. So you can easily carry the iPad sideways and not worry about it slipping out. In fact, you can actually hold it with the pouch opening pointing down and the iPad probably won't slide out. I do not recommend you do this. It is dangerous and silly. I am merely illustrating a point. I don't know if the snug hold of the pouch would deteriorate over time, but I don't get the impression that it would. The fit is so tight that only a naked iPad could fit in there. So if you have anything other than a screen protector or a Gelaskin type of product on your iPad, it probably won't fit. Even a screen protecting film will probably make the fit tighter.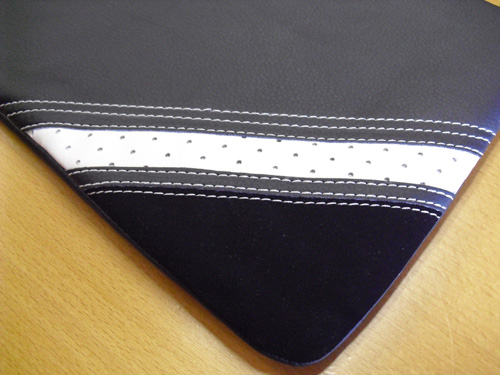 The padding the Maya II has won't protect you from any significant drops. It is more appropriate for scratches and minor bumps. It is great protection if you want to throw the iPad into your back pack, purse, briefcase or the back seat of your car. It will make you feel better when you are out and about with your iPad.
Coolness Factor
The Maya II is pretty slick. I tested the black one with the cool white racing stripe in the corner. It is also offered in pink and white. Hey guys, you could really make an aggressive statement if you choose to walk around with the pink one.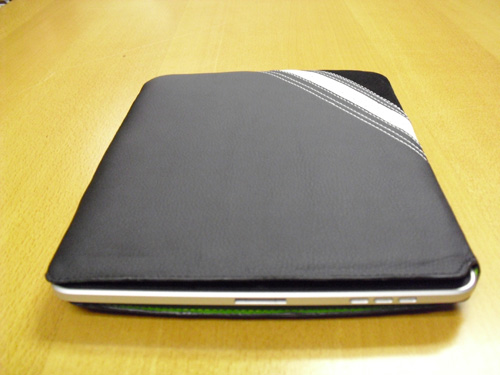 It really is an aesthetically pleasing item. People won't be able to tell that you are carrying around an iPad. However, they probably will know that you've got something flashy in the pouch. Overall it is a pretty cool looking case.
Pros
Pretty cool looking
Good for naked iPad use/travel
No animals seem to have been killed in making the pouch
Lifetime warranty and "never argue" return policy per website
Cons
Not a significant amount of protection
Almost too tight a fit
Should You Buy?
The Maya II is reasonably priced at $29.95. With a lifetime warranty and a "never argue" return policy it is certainly worth the risk. If you like naked iPad use, this is an excellent choice. If you tend to toss your iPad in a backpack, then this will give you some nice protection. The item is nicely designed and feels quite good when you are holding it in your hands.
Rating: 4.0 (out of 5)