We took a close look at the Proporta Mizu Shell to see how it performed on the iPad. The case is designed to look sleek and remain on the iPad at all times. The silicone and crystal material combination puts this case somewhere in the middle between a hard and soft case.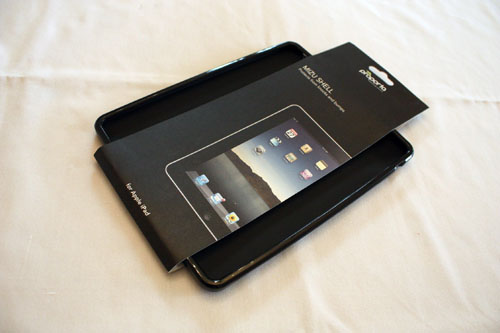 Packaging is minimal, with just a paper sleeve describing the product. The inside of the Mizu Shell is a flat matte finish, while the outside is polished and shiny. A narrow rim around the outside of the case has cutouts for ports, switches and depressions for buttons.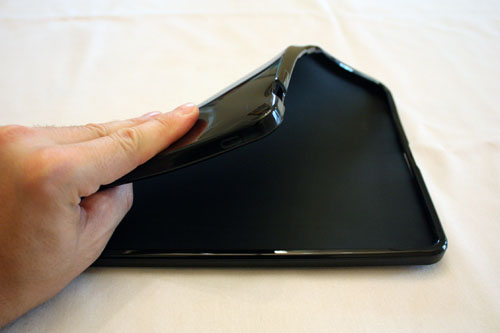 The Mizu Shell is flexible and easy to install. Starting at one corner, the Mizu Shell slips over the iPad all around until it snaps in place. This case fits tightly on the iPad and takes a little bit more effort to remove. Although it's flexible, the Mizu Shell is not tacky like other silicone cases. The exterior performs more like a hard shell.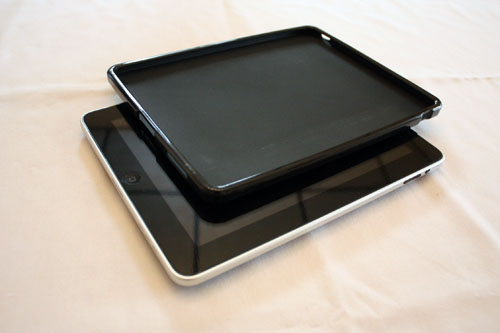 When installed, the front edge of the case overlaps the edge of the glass. All metal is covered by the Mizu Shell. The case doesn't really add any bulk or weight to the iPad since it's relatively thin. This also means Mizu Shell will fit nicely inside a bag or another larger case.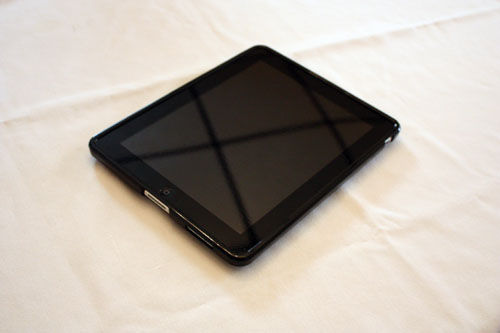 The bezel blends in nicely with the black Mizu Shell. All edges on the iPad are protected. This is a slim case, so it's best for protecting against bumps, scratches and knocks. We wouldn't depend on the Mizu Shell to defend against a sharp drop or to protect the screen since there's not really any impact absorbing padding. This case also improves grip over the aluminum back.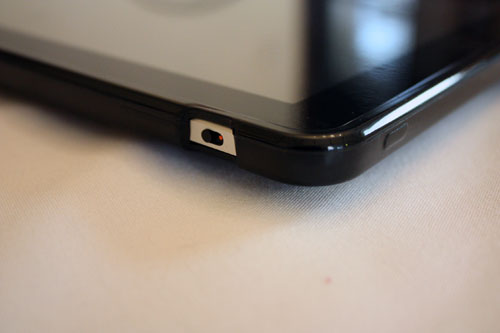 The buttons are harder to press when inside the case, but the feel is solid. You can rest assured that the volume and sleep buttons won't encounter any dirt or damage while behind the Mizu Shell. Cutouts are there for the dock connector, rotation lock switch and headphone jack. The seams in the plastic are virtually invisible except for two spots where the case was molded that are sanded down.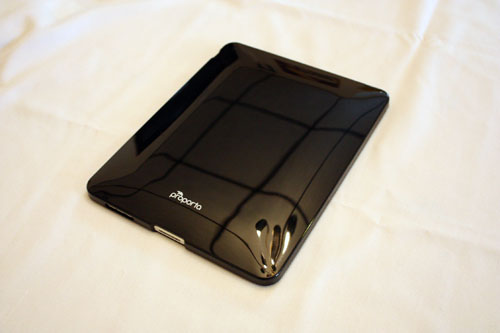 The back of the Proporta Mizu Shell looks great until the iPad is handled. Unfortunately one negative about this case involves fingerprints on the shiny finish. They appear quickly and are pretty obvious until the iPad is wiped down. The fingerprint problem is similar to fingerprints on the screen, so it's not a deal breaker.
Overall, if you're looking for a combination between a flexible and hard case that doesn't interfere with the design of the iPad, Mizu Shell is a good bet. The thin profile protects without bulk and installation and removal is simple. Just watch out for the fingerprints and smudges on the shiny back finish. Proporta's Mizu Shell is available now for $39.95.
Rating: 4 (out of 5)