UPDATE: For the time being, the 16GB WiFi + 3G is back in stock at AT&T's online store, the 32GB remains sold out.
The AT&T Mobility online store has dropped prices again on the first-generation iPad 3G + Wi-Fi. The 32GB model already sold out, and now a 64GB iPad can be bought new for just $529 contract-free. This is a full $300 off the original price, a steep 36 percent discount for those who don't feel like doing the math.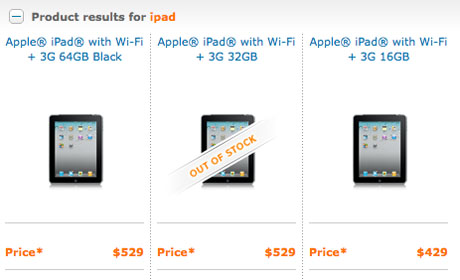 Apple has not followed suit, holding prices at just $100 off the original selling price. AT&T is offering the 16GB iPad for $429, less than the Wi-Fi only model entry level pricing at launch. Refurbished iPads can be purchased from Apple for even less.