UPDATE: The ZAGGmate case/keyboard is also available for the iPad 2.
Although we've been intrigued by the ZAGGmate case and/or case and bluetooth keyboard combo since it was first announced a couple of months ago, we've been a bit lazy getting one into our hands. However, as luck would have it, a ZAGGmate arrived on our doorstep on Christmas Eve. What follows is a brief first look (full review to follow) at the latest iPad accessory from ZAGG, who is most well known for being the creators of the invisibleSHIELD line of screen and body protectors.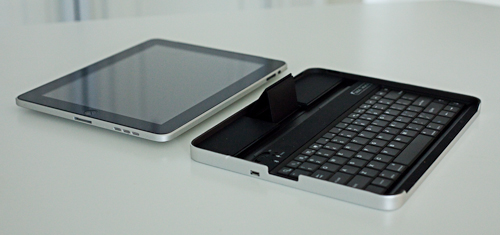 The thing that initially caught our eye about the ZAGGmate was the design and aesthetics of the case. The most notable thing about the vast majority of iPad cases out there is how un-Apple and un-iPad they are, Apple's official iPad case certainly not excluded. Most cases we've encountered are either made from materials (for reasons specific to their purpose) that preclude them from being considered sleek and elegant or, more commonly, simply fail at efforts to do so -- ending up awkward, bulky or both.